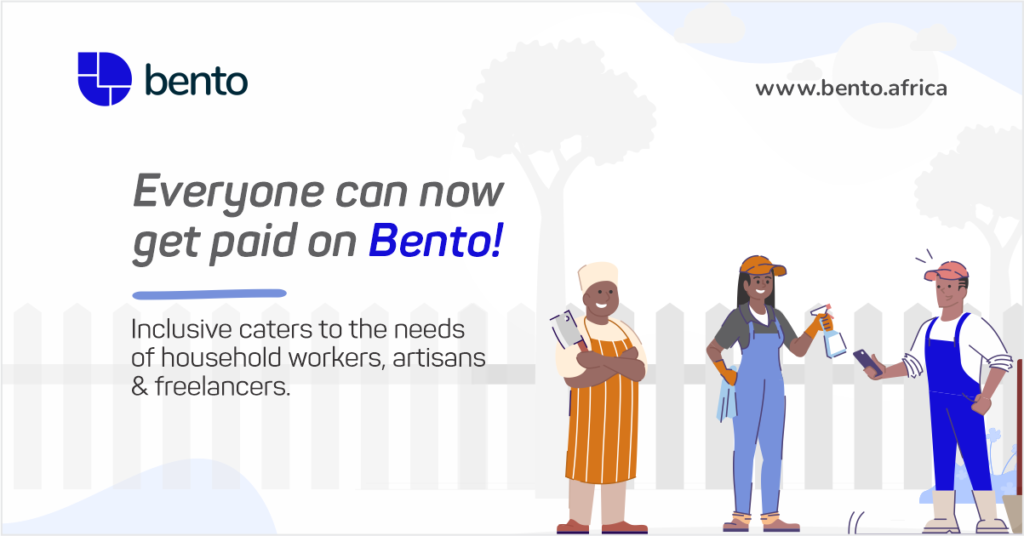 We think this is a big deal!
At Bento we are constantly challenging ourselves to ask the other question and to boldly meet life where work happens, in all its forms, to open the aperture and to boldly serve employers and employees across the labor spectrum — from fortune 100's to household inc.
Today, we are glad to announce that we have launched a feature called Inclusive (for android and iOS) that will formalize the labor of the over 70 million domestic workers in Africa and add them to the rolls of the visibly employed — a benefit that has underwritten our personal passports to a wider world of financial services and opportunities.
How does it work?
Add your chefs, drivers, nannies, maids, etc (you can also terminate, track vacations, etc).
Add their details (bank accounts or MOMO accounts, salaries, etc).
Add the benefits you want to give them: health insurance? (you pay when they are sick anyway), a savings plan? (no more please can I borrow money for school fees), pension plan? (you can help them put money away the same way most of us save for the days when we will not work anymore) etc.
Your domestic team will be able to view their payslips & print them. They will see all the benefits they have access to and how it can be consumed and more importantly — they will know you care. *Don't worry, if they are not literate, we have a support desk fully staffed, that will call them to ensure they maximize their benefits.
In our white-collar worlds, we have known this truism for a while, companies that treat their employees well and give them the best benefits get productivity gains and loyalty beyond those that do not. Is there a reason to suspect this isn't the case with our domestic staff? You of course know the answer to that. It is in your interest to care. After all, those which you trust and love the most are things and people you entrust to your domestic team.
Our domestic staff are considered part of the informal sector but there is nothing informal about how important they are to our lives and our economies. We are very excited about this feature and to see how it evolves.
Download it today on your android or iOS devices as it is almost time to pay salaries for the month!
If your employer already uses Bento, this feature is already available to you, just update your app and click on the domestic icon. To those whose employers are not using Bento — please ask them why not? 😁
We see the Inclusive feature as an extension of the conversations we get to have with large employers who have over 500 employees through medium-scale enterprises and small businesses. There are homes that employ in some cases over 5 people — those 5 are not informal, they are people that deserve to be counted and enjoy the benefits of access like someone that works for a large corporation does. Everyone deserves to be included.
Bento will meet life at the intersection of work wherever that work happens.
We are just getting started. Stay tuned!
Built with love ❤️
The Bento Team.