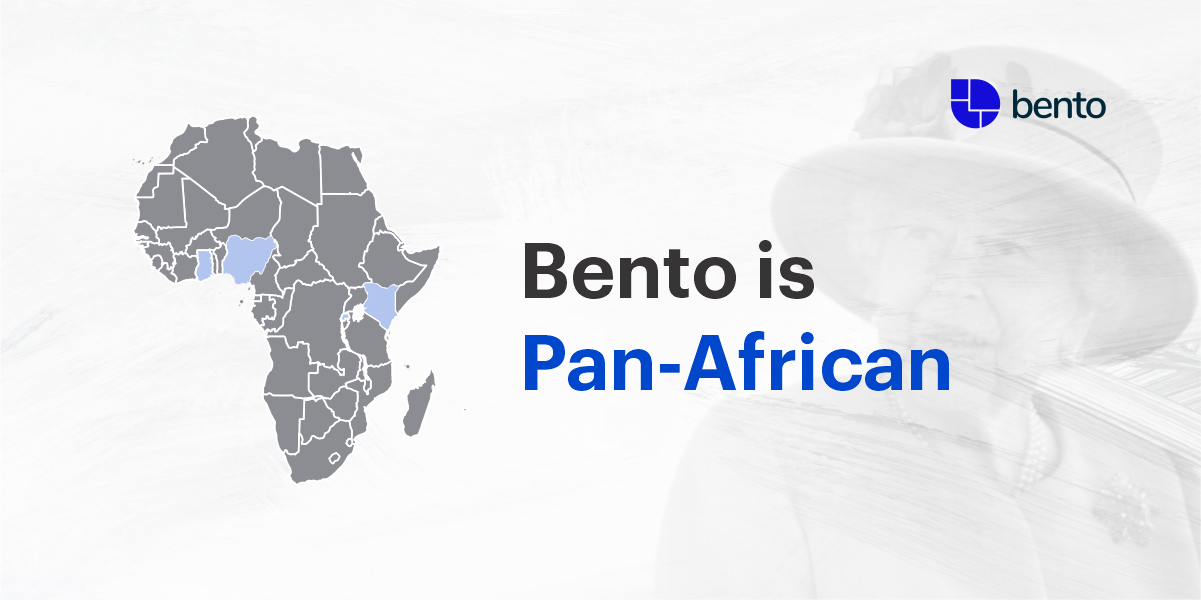 Queen Elizabeth II believed in things staying the same – Bento believes in progress and innovation 🙂
While the world mourns the loss of one of the most iconic figures of the 20th and 21st century, it's also a time to embrace new beginnings, progress, and new ways of doing things.
At Bento, innovation is in our DNA and we are committed to our pan-African mission of reimagining the way people earn, spend and borrow across Africa. We do this by providing those in both the formal and informal sectors with a world-class payroll, HRM, and Benefits platform that empowers them to change the continent.
Here's an update from Mission Control:     
Empowerment
We empower those in both the formal and informal sectors in Nigeria, Ghana, Kenya, and Rwanda, and we're expanding into other countries to make the African payroll and HRM experience truly world-class.
We currently serve over 1,000 businesses and households, redefining what has traditionally been a laborious analog process on the continent, to a smooth and seamless digital experience that gives our users peace of mind with a single click. 
That said, we understand that the needs of all of our users are very different. For example, with our larger organizations, we know that complexity increases exponentially and it is much harder to spot errors, eliminate ghost workers and be able to separate employees into groups. Our groups feature, automatically combines clusters of employees for organizations with more than 100 employees, and users can then customize as they see fit, giving you total control. 
Our first-of-its-kind partnership with Stanbic IBTC demonstrates our commitment to innovation and pushing boundaries as we seek to empower as many people in the formal and informal sector with our world-class offerings.
Inclusion
Today, the perks enjoyed by people in the formal sector are not available to those in the informal sector, but we have changed that with Inclusive by Bento. 
Our domestic staff look after our children, help drive us to important business meetings, cook, and take care of laundry — all to make our lives easier so that we can focus on our corporate careers or business pursuits. If they are happy, we are happy.
With Inclusive by Bento we are able to lower the barriers to entry for Africans so everyone can have access to a world of limitless opportunities. We're working hard to improve on the features and capabilities to give more value, and we won't stop until everyone is included.
Financial security
With Bento+ you can spend up to five times what you earn in a secure and responsible way. You can start with a line of credit, and eventually, take a car loan, and soon enough a mortgage. We also offer options to defer or pause repayments because we understand that life happens. You can get advances on your salary whenever you need to. I mean, why not live your best life? 🙂
We are truly Pan-African
We're hard at work democratizing access to benefits for everyone across the continent with Credit, Savings, Investments, Health Insurance, and more. Whether in the formal or informal sector, wherever work is happening in Africa, you'll find us there.
If you're not already using Bento, click here to book a product demo with a member of our team who are always more than happy to help.
To progress
Bento 💙